PayApp by iControl™ Wins ETA's 2017 Star Award for "Best...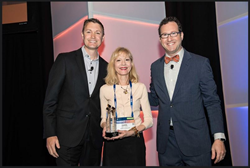 Bethesda, MD (PRWEB) May 19, 2017
iControl Data Solutions (iControl), a leading process improvement and business insights provider to Retailers, Suppliers and Brokers, announced today the PayApp by iControl™ mobile payments solution has been selected by the Electronic Transactions Association (ETA) as "Best Mobile Solution" at the 2017 ETA Star Awards presented at the annual TRANSACT conference in Las Vegas, NV.
On May 11th, ETA announced winners of the Tech Innovation Showcase Awards, sponsored by PayPal. According to ETA, "the awards, new to TRANSACT, highlight the latest innovations in payments. Award categories include best-in-class solutions in risk, social media integration, payment facilitator integration, and mobile."
Josh Goines, Senior Director, Consumer Choice and Global Business Development at PayPal presented the awards from the TRANSACT keynote stage.
"The ETA Star Awards spotlight people and businesses making meaningful advancements in the payments industry," said Jason Oxman, CEO of ETA. "TRANSACT is where the world's payment industry leaders and innovators come together, and there is no better occasion than the Presidents Dinner to honor our own who shine the brightest".
TRANSACT is the single biggest event tailored to the evolving needs of the payments ecosystem. This is where seasoned industry titans come together with the newest innovators to create long-lasting partnerships across the industry landscape. TRANSACT is where business gets done, and where payments titans meet current and future business partners, venture capital invests in what's next, growing companies build influence, and companies of all sizes launch new products.
Sean Zlotnitsky, Co-CEO of iControl, said, "We are thrilled to accept Electronic Transactions Association's 2017 Star Award for "Best Mobile Solution". It was an honor to attend the TRANSACT conference as part of the Tech Innovation Showcase, and demonstrate the features and benefits of our PayApp by iControl™ mobile payments solution."
PayApp by iControl™ is a B2B mobile payments solution providing suppliers and distributors with a cost-effective and streamlined solution to invoice and collect payments from independent and small merchants right in the field, or from a centralized accounting office. PayApp™ also improves the availability of invoices as they are presented electronically to the merchant, while providing the ability to process payment via ACH bank transfer, saved credit cards, physical card swiping, and even a submitted check capture. Read the full story at http://www.prweb.com/releases/2017/05/prweb14348242.htm...
--
We have recently acquired these websites:
POS-Advice.com - a 100% focus on restaurant point of sale
POSforum.net - a support forum where users share information and answer tech questions for various restaurant POS products including Oracle/Micros and Aloha.
Restaurantsoftwarelist.com - A list of technology solutions for restaurants and hospitality. Find developers, manufacturers, resellers and processors.
POS-Advicenewsletter.com — A weekly newsletter of technology advice and opinion for restaurants.