Rain Retail Software Reverb.com Integration, Separate Integrations with D'Addario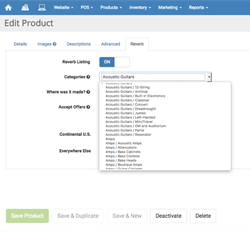 Springville, Utah (PRWEB) July 13, 2017
Rain Retail Software, a cloud-based point of sale and integrated website solution provider, launched a closed beta integration with Reverb.com back in January 2017. Today, Rain announced their open beta release of the Reverb.com integration. The integration allows musical instrument retailers to easily push products from the Rain Point of Sale system to the Reverb.com marketplace with automatic inventory changes updated across Reverb and the Rain system in real-time.
"The Rain integration with Reverb is a very important part of our business," states Jeremy Chapman, Co-owner of a Top 100 NAMM store, The Acoustic Shoppe. "Now we're able to push products to Reverb without having to manually list them. If an item sells in store, it's automatically taken off Reverb. If we get new inventory in, it's put back on Reverb . . . and we can sell our products to a much broader audience." The Acoustic Shoppe was one of the first Music retailers to use the integration.
Rain also announced catalog integrations with two industry leading vendors, D'Addario and Alfred Music. The integration makes it possible for music retailers to add full product details from these vendors to their point of sale system just by scanning the product barcode. Product details, including product title, description, UPC, part number, manufacturer, and product image, are all automatically populated in the Rain Point of Sale system.
According to Rain Retail founder and president, Sean Roylance, "It is our goal to provide the means for local music retailers to compete with national retailers, like Guitar Center and online retail giants like Amazon. Our integrations with Reverb, D'Addari, and Alfred Music are powerful new tools to help our customers do just that."
Other POS News:
Save
Get The Point of Sale News once a month, once a week or once a day. Subscribe here.